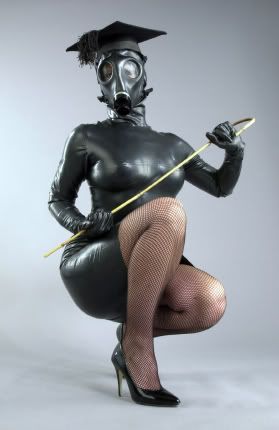 I'll admit it, I worry about my karma sometimes. I worry that this nasty little endeavor may somehow putrefy my already gangrenous, skid marked soul with each review I write. I know that sometimes the energy I'm putting forth into the universe is riddled with negativity and I know that this energy will somehow find its way back to me and probably wreck anal havoc on me with a giant spiked dildo when I least expect it.
I know the world doesn't need more assholes. I get that. Really, I do.
But
El
,there are certain things I can't read, walk away from calmly, and not want to set your minivan on fire, I'm sorry.
Reading your blog is like having someone
try to convince me to sign up for a seminar on the power of positive real estate when all I want to do is bury my dead cat that I've been keeping in my freezer
. Does that make sense?
Listen, I'm not going to any fucking seminar, so you can forget about it. And I don't want to buy any of the shit you have in the back of your van. You can keep your insight about crystals and your tips on how to connect with hummingbirds.
Oh, what? You're not selling anything? Then why does every one of your posts read like a mix between a
condescending infomercial
and a scaremongering headline read aloud in baby talk?
Why does reading your blog remind me of all that I hate about our consumerist media culture because the only way you can think to frame your writing is in the context of a cheesy,
poorly executed sales pitch
? I cannot for the life of me figure out why you want to sell me on your perfectly green spiritually vibrating ohmified life of
oneness
as if it were an erectile dysfunction medication or a box of cereal.
When you aren't selling me on your perfect life, you're telling me about the problems you have already overcome, your posts being akin to
self-contained sitcoms
where everything resolves itself before the 30 minutes are up. No cliffhangers, no character development that I can even remotely identify with, no compromised heroes, no layers of emotion. Just a big ass pile of happy perfection wrapped up in a moldy tortilla of tired, greener-than-thou proselytizing.
This is all interspersed with your being salted and pummeled by your own
mental shit show
, confirming to the reader that you are far from having your shit together like you're constantly reminding your readers with the graceful subtlety of an ice pick to the head.
I wanted to give you a MEH, really I did, just to not filth up the universe and all. But you earned yourself a MEH based on exclamation point abuse alone and so once I added everything else I hated about your blog, I could only give you this: