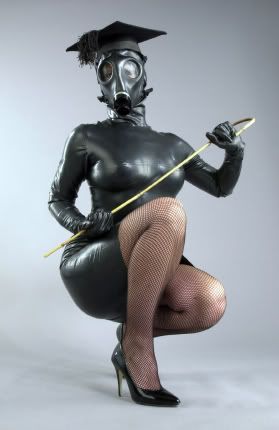 School is back in session, my little pretties, and believe me, I weep for my holidays too. I'm melancholy today as I stand in the corridor amidst the unbearable squealing chatter of the young with my arms folded, mourning the golden silence of summer that has ended. As I settle into the day to day, I'm beginning to wonder what the point of it all is.
The beginning of the school year always provokes déjà vu. A new batch of students arrive, their white tennis shoes like blinding fluorescent light bulbs, their eyes wide and hopeful. Crooked teeth jut out at me forming genuine smiles, but alas, their teeths' days of crooked originality with their charmingly overlapped incisors are numbered; soon they will be aligned with military orthodontic precision inside a shit-talking, ass-kissing mouth whose only language is cliche. Year after year, children unique in their artful ways are painfully shoved through the meat grinder of sameness, excreted out into the world of banality, mixed with all the other fat and protein, never to stand out as bright as they once had the potential to. A very few leave their mark on the world in some way, but most, even bright ones will end up settling for the shallow waters of life, never bothering to take off their stupid floaties to explore the deep end and see if there is anything below the surface that is worth the effort.
They will marry.
They will eat a buttload of junk food while watching T.V.
They will join a gym and lose all the weight they gained.
They will procreate, wherein the fact that they have made full use of their capacities as placental mammals and the fact that they have struggled with weight loss will completely hijack their entire sense of self, and they will think and talk about precious little else. They will start a
mommy/exercise blog
, and the only guiding principle for their posts will be that they must be made up, almost entirely, of the following words or phrases:
-vlog
-Wordless Wednesday
-mommy
-hubby
-baby
-potty
-contest
-giveaway
-meme
-blog radio
-twitter, tweet grid, tweets, twitter party, twinkling twitching twat (okay I threw that last one in to liven up this god awful list).
They will implode in their own redundancy and disappear from reality into a
black hole
of
anti-art
*
Which, now that I think of it, makes it nearly impossible for me to review this blog, because I cannot philosophically distinguish it from all of the trivial meaninglessness I see all around me. It cannot be separated from all the other gristle and tissue of homogenized mediocrity. It is one with the salmonella floating freely through this non-universe.
This blog is one of the many whose sole existence is justified on the basis of community engagement, encouragement (for getting through You-Name-Your-Crisis), and, I suspect, subconscious solace-seeking so as not to drown in the murky waters of nihilism. But I, for one, am annoyed with community engagement absent artful communication, I am discouraged by your empty encouragement that fails to connect with Me The Reader, and I feel depressed when I see how others find solace in your hackneyed anti-narrative.
I want more.
I want painfully beautiful sentences contained within a story that has a point. I want the writer to toy with words until they slither around my head and I savor their every nuance. I want the laugh sucked out of my throat, filling the space between me and my computer screen with audible delight. I want to jealously kick myself wishing it had been me who had thought to string those words together so eloquently. I want my mouth to gape open at talent, or at the bare minimum, effort. But mostly, I want utter generosity of self. I want the unhearthed innards of one's psyche, the best and worst of what is inside their mind. I'm greedy as fuck like that. I don't want the
tedium of life
regurgitated into my face with
ready-made phrases
while in the meantime having the shit hypnotized out of me by sidebars of blazing doom which attempt to distract me from the total and absolute lack of meaningful content.
Bookieboo -- I can honestly say that if I met you in real life and heard your
amazing weight loss story
, I would tell you that you look awesome and high five you for your hard work and congratulate you on your beautiful family. But here, on this turf, I'm going to dare you to take some of the travail that allowed you to give birth, make it through a
difficult loss
, and wake up everyday and get your ass to gym and put just an ounce of that sweat into crafting your blog posts into stories. I mean, what the shit is
this
? Tell some of those
embarrassing tales from junior high school
; don't just blog about how you talked about it on the blog radio. Don't
talk to me about sex
like I'm your next door neighbor's eight year old daughter; for christsake give me some substance. Knock it the hell off with the skin-deep twitter, radio and video bullshit, roll up your sleeves and get your write on and give me some art or get the fuck out of my face.
And would you please put your sidebar on a cabbage diet? At the moment it is gavaged with junk that stabs my eyeballs like pixelated syringes of poison and makes me hate humanity while simultaneously being thankful for being distracted from your annoying anti-posts.
No, Bookieboo, you don't get an B- on your report card for being a sweet mommy who lost a ton of weight. You made me question the metaphysical existence of your blog, and thus my computer, and thus the apple on my desk, and thus myself, and whether or not any of it has any meaning and I don't need that shit on a weekday in an environment where heavy binge drinking is frowned upon.
Run along to the mall now, I believe there is a sale at Abercrombie.
P.S. Your cartoon header sucks ballz, yo.
*I mean this literally and am not referencing the anti-art art movement, which actually has something to say.