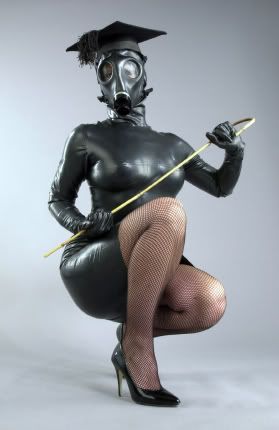 In my line of work, I have to do a lot of reading. I read strategic educational planning reports, budgetary requests, grant applications, teacher induction guidelines, etc. I spend my day buried in this shit.
I can safely say that 99 per cent of what is piled in manila folder after manila folder on my desk awaiting my signature is well written. Punctuation has been used following stringent style guidelines, proper past participles have been applied and subjects and verbs are in harmony like ebony and goddamn ivory.
That doesn't mean that I want to put on my silk negligee, curl up in my cashmere throw with a hot toddy and pull out a copy of the State Board Standards and Rubrics for School Improvement.
I read that shit because I bloody have to.
I have a similar approach to blogging. You can have a PhD in semiotics and another in 18th century English literature and that doesn't get your ass into my reader. To get into my reader, your funny has to hurt my abs, your sexy has to disintegrate my underwear and your frustration has to stick to my throat long after I've marked your posts as read. In other words, whatever the hell you purport to be, you had better be oozing with it and you'd better make me want to lick it up.
And the licking part is where it gets personal. I like to lick what I like to lick. What can I say?
And because I'm used to seeing so much syntactical and grammatical jackassery around this joint, I'm thrown off a bit when I find
someone that can actually write
; not just sentences, but entire posts that follow the same line of thought without filibustering my face off with random, disconnected, poorly thought out brain turdlings.
Zen Mama knows how to pull a post together. She thinks about what she writes in advance. Not only that, she can write a series
related
posts
and actually retain my interest. Zen Mama tells her story without holding back: the story of a thrice divorced 46 year old
mother
and professional. She is brave enough to call a spade a spade and a
skeleton in the closet
a pile of bones. I respect and admire that in a blogger. Her posts can tend to lean towards too long at times, but in general, they have
a good pace
and she always tries to
reveal things about herself
through her writing. She believes she's a writer and she acts like it.
But back to the licking.
Here is where I have to put into words why I don't fucking love Zen Mama and only like her. This is where it gets entirely personal. And I'm finding this discussion near impossible without touching my toes into the tumultuous, I'm-gonna-get-ma-fuckin-foot-electrocuted waters of feminism and what it means to me.
Even thinking about this irritates me because I don't want to be non-solidarity-like. I know that we women need solidarity. I know our salaries are still crap compared to men. I know the number of the hours men spend per week on childcare and housework pales in comparison to ours. They enjoy more money, more prestige, more free time, even most of the egalitarian, self-proclaimed Feminist ones do. I'm right here in the boxing ring, throwing my best punches with the same feelings of betrayal in the realization that I'm not just one of the guys anymore and I am always the one to do the fucking laundry.
It's just that I don't buy into the brand of feminism that is all girl-powery, women unite in a huddled mass of chocolate and tears, singing 'I Will Survive' at the top of our lungs, and rise up against men who are all a series of Mr. Dependables, Mr. Idiots, Mr. Perfections, Mr. Whatever-- random, faceless dudes in random suits who are nothing but the prototype of 'man' that we have in our collective heads. That particular brand of feminism with which I have never been able to identify smacks of oversimplification and leaves a weird flavor in my mouth that tastes a lot like regression. I'm not afraid of femininity. But I find that I like women when their strongest characteristics aren't their overriding girliness in the same way that the men I like are not oozing with masculinity. I like my peeps adrodgynous. There is something that doesn't sit right with me when women pat themselves on the back for doing shit despite being women, and maybe it's just that it pisses me off that things are to a state that we require a back pat for living. I want women and men to see society and their position with respect to the opposite gender as being seamless, homogeneous, even if that's naively idealistic of them. I don't claim that men and women are not by nature different and that their differences shouldn't at times be celebrated. But I think we are a hell of a lot more alike than we are different. The variations between us as individuals are much, much greater than they are between the two gender groups as a whole.
Don't get me wrong, Askers. Zen Mama's blog is not a blog that gets all First Wave on our asses in every post or that even seems to be intentionally about any brand of feminism at all. There is just a tone I perceived throughout her blog, and the fairies in the sidebar continuously reminded me of it. And I feel like that has stopped me from being able to Fucking Love her, because I think we differ philosophically. But I have these same issues with my girlfriends in the real world and argue with them about why I think always having Girl's Night Out every goddamn time we get together is retarded.
I give three stars to Zen Mama for knowing how to tell a proper story and for being one of the good ones in the blogosphere. I suppose if Zen Mama was able to transmit anything about herself philosophically through writing and to stir the reader to examine themselves in any way, as far as blogging goes, she's got the right idea.
By the way, I love the blog name and wish I had thought of it.